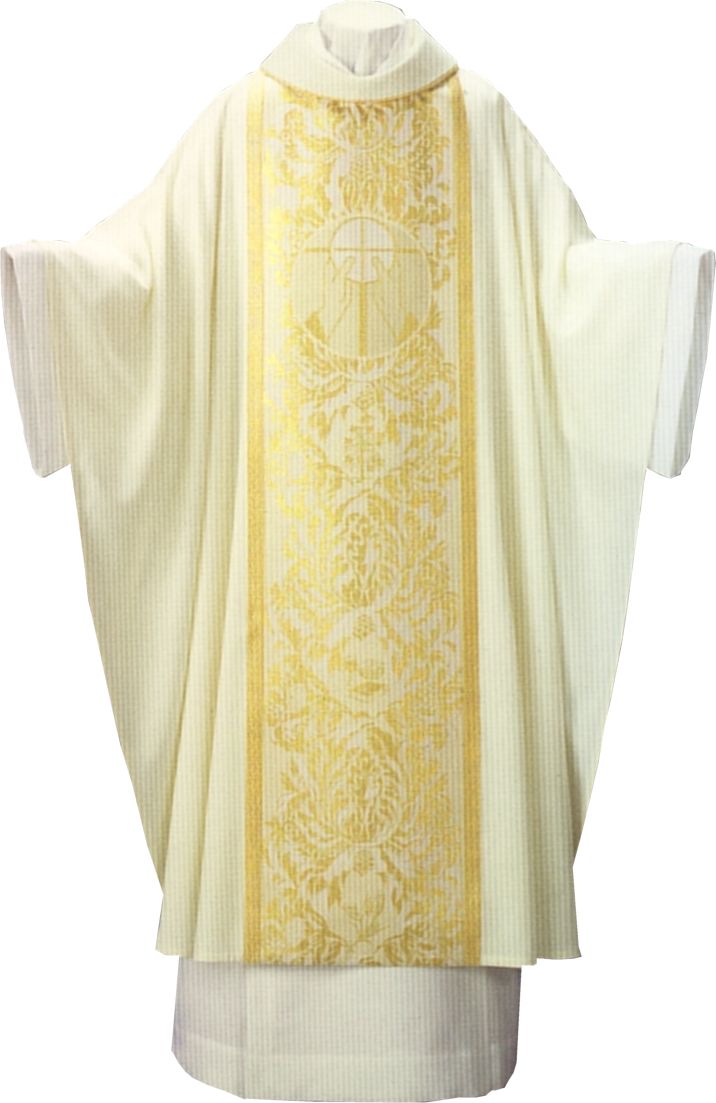 "Lord, you said "my yoke is easy and my burden is light". Grant that I may be able to wear this vestment so as to obtain your grace. Amen."
(Vesting prayer while putting on the chasuble).
This is the outermost of the priest's vestments during the celebration of the Mass – "The vestment proper to the priest celebrant at Mass and other sacred actions directly connected with Mass is, unless otherwise indicated, the chasuble, worn over the alb and stole." (GIRM 337).
The symbolism of the chasuble is rich. Traditionally, it represents the charity of Christ which covers all things "Over all these clothes, put on love, the perfect bond." (Colossians 3: 14). In the context of the Eucharistic sacrifice that is the Mass this takes precedence over the symbol of the priest's authority, the stole, which is why the chasuble is worn on the outside. (Elliott, CMRR, 126).
The name seems to come from a word meaning "hut" or "cottage" and several ancient sources describe that chasuble as a "little house" enveloping the priest. In its original form in Ancient Rome it was a circular garment, similar to a poncho, with an opening at its centre for the head. Over time some versions were considerably cut back and ornate panels added on the front and back until "Roman" or "Baroque" chasubles like stiff, ornate sandwich boards developed. Since the Second Vatican Council there has been a move back towards the fuller "Gothic" chasuble similar in appearance to the original garments.
The colour of the chasuble worn is determined by the season of the Church's year or the feast being celebrated – see "liturgical colours" for a full explanation of each.
At the Mass of the Lord's Supper on Holy Thursday night, the priest will remove his chasuble before the washing of the feet. He does this in imitation of Jesus who removed his outer garment before washing the disciples' feet at the Last Supper.