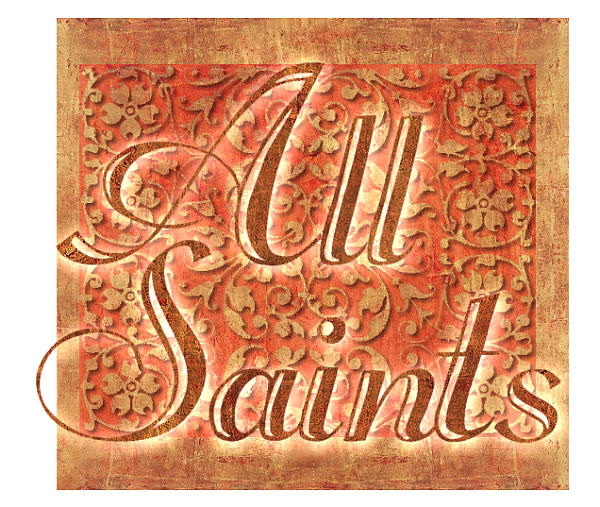 "After that I saw that there was a huge number, impossible for anyone to count, of people from every nation, race, tribe and language; they were  standing in front of the throne and in front of the Lamb, dressed in white robes and holding palms in their hands. They shouted in a loud voice, "Salvation to our God, who sits on the throne, and to the Lamb!"" (Revelation 7: 9-11).
The Solemnity of All Saints, formerly on the 1st of November but now usually moved to the nearest Sunday, celebrates all those who have died and now stand in the presence of God in Heaven. They are the ones who have completed their journey of faith and have returned home. How many saints are there? It is impossible to say. We just do not know. There are those that the Church recognises. These range from the famous like St. Peter, St. Paul, St. Joseph to the more obscure like St. Hedwig (no, not Harry Potter's owl!) In fact, over the centuries the Church has created so many saints that many, for various reasons, do not have their own feast days. St. Christopher, for example, a popular saint and patron of travellers, does not have his own feast. The Solemnity of All Saints celebrates the lives of all of these.
But by far the greatest number of saints are those unknown to history. They come from our families and from the ranks of the faithful throughout the centuries who in their own way have strived to do God's will and to serve Him through prayer and a good Christian life. Anyone, literally anyone, who is in heaven and stands in the presence of God, is a saint, and that could be any of your relatives who have died. By canonizing some of the faithful the Church is saying that by their lives or deaths they displayed some heroic virtue or lived in fidelity to God's grace and may be granted public honour – that their feasts may be celebrated and their intercession asked for – but it does not say that these are the only people in heaven and we live in the hope that our deceased relatives and friends are their also aiding us by their prayers.
"They will never hunger or thirst again, sun and scorching wind will never plague them, because the Lamb who is at the heart of the throne will be their shepherd and will guide them to springs of living water; and God will wipe away all their tears from their eyes." (Revelation 7: 17).