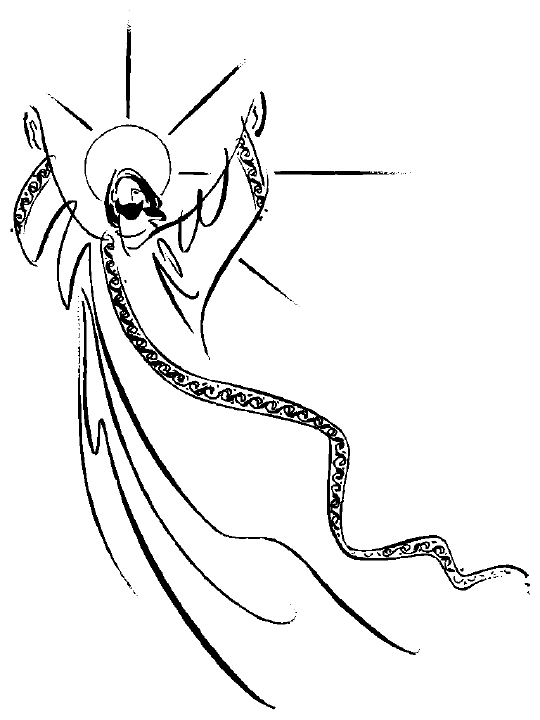 Before the most recent changes to the liturgical calendar the Solemnity of the Ascension of the Lord used to be celebrated forty days after Easter Sunday (always on a Thursday) to mark the length of time that Jesus remained with His disciples and Our Lady before returning to His Father in heaven and was a Holy Day of Obligation when Catholics were called upon to go to Mass.  Following the changes this feast is now celebrated on place of the Seventh Sunday of Easter.
The feast marks the end of Jesus' earthly mission – yet he is with us until the end of time. He ascends to the Father where He intercedes for us. He goes with the promise that He will certainly come again in glory to judge the living and the dead. This is a celebration of Jesus' eternal Kingship. These are reflected in the Entrance Antiphon "Men of Galilee, why do you stand looking in the sky? The Lord will return, just as you have seen him ascend, alleluia" (Acts 1: 11) and in the Communion Antiphon "I, the Lord, am with you always, until the end of the world, alleluia" (Matthew 28: 20).
The Opening Prayer expresses that in the Ascension of Jesus is the glory and hope that we may follow Him into the new creation – a theme developed in the Prayer over the Gifts. The readings of the Mass actually contain two accounts of the Ascension. The first reading is always that at the beginning of the first chapter of the Acts of the Apostles while the Gospel is the same story as told by St. Matthew, St. Mark or St. Luke depending on which year of the lectionary is being read.