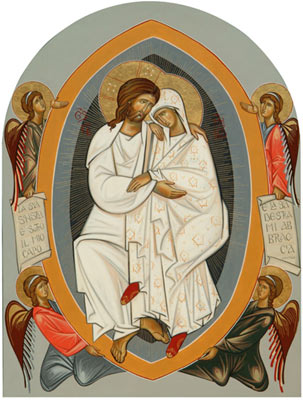 Formerly celebrated on the 15th of August, this Holy Day of Obligation now transfers to the nearest Sunday. This feast is linked to that of the Immaculate Conception on the 8th of December and flows from it. "
Finally the Immaculate Virgin, preserved free from all stain of original sin, when the course of her earthly life was finished, was taken up body and soul into heavenly glory, and exalted by the Lord as Queen over all things, so that she might be more fully conformed to her Son, the Lord of Lords and the conqueror of sin and death." (Catechism of the Catholic Church 966).
Mary, as we have seen on the Solemnity of the Immaculate Conception, was preserved from all stain of sin- through a singular grace of God she never sinned.
The Doctrine of the Assumption formally became part of the Catholic Faith in 1950 with the declaration of Pope Pius XII. However, it can be traced back to at least the second half of the fourth century and stories of how the apostles, who had been present at Mary's deathbed, found her tomb empty. Jerusalem celebrated a feast of Mary the Mother of God on the 15th of August and by the seventh century the feast was introduced to Rome, possibly by Pope Theodore.