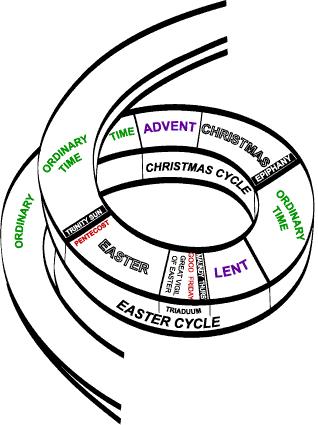 We measure time in an annual cycle. Just as there is the calendar year, the school year – so the church has its own year. This runs from the First Sunday of Advent (usually in late November), through to the Solemnity of Christ the King. As shown on the diagram this includes the seasons based around the three great feasts of the Church – Christmas, Easter and Pentecost as well as two periods of Ordinary Time. Because Easter is a movable feast – it falls on the first weekend after the first full moon after the first day of spring - the start (Ash Wednesday) and the end (Pentecost Sunday) do change from year to year. Included within this are all the feasts and saints' days that make up a complete cycle. There may be thirty-three or thirty four weeks in Ordinary Time.
Running alongside this are two longer cycles based on the readings proclaimed during the Mass. The longer is a three year cycle based on the Sunday readings: year A being devoted to St. Matthew's Gospel, year B to St. Mark's and year C to St. Luke's. Although St. John does not have a year to himself, his Gospel is widely used throughout all three years, especially around Easter time.
The other cycle runs over two years, known as Year 1 and Year 2, and concerns the readings proclaimed at the weekday Masses. The Gospels of Sts. Matthew, Mark and Luke are proclaimed extensively during each of the years preceded by a reading from either the Old or the New Testament, a Responsorial Psalm and Gospel Acclamation.
Seen from one perspective, the liturgical year mirrors the salvation history of humanity. The world was created and waited for Jesus (Advent), the period covered by the Old Testament. Jesus was born (Christmas) lived, taught and healed (Ordinary Time and Lent), entered into Jerusalem (Palm Sunday), celebrated the Last Supper, was arrested, tried and crucified (Holy Thursday and Good Friday), rose from the dead on the third day (Holy Saturday, Easter Sunday). He ascended into heaven (Ascension Day), sent the Holy Spirit (Pentecost – the Church is born) and now we wait (Ordinary Time) for Christ's second coming in glory at the end of time (Christ the King).