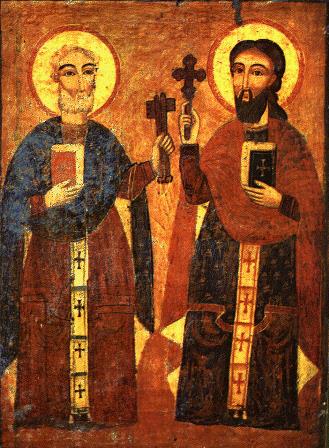 Formerly celebrated on the 29th of June this Holy Day of Obligation now transfers to the nearest Sunday. The liturgical colour is red and the feast commemorates two of the key figures in the early Church. St Peter, the fisherman who would three times deny Jesus and who would become the first Pope – "You are Peter and on this rock I will build my community. And the gates of the underworld can never overpower it. I will give you the keys of the kingdom of Heaven: whatever you bind on earth will be bound in heaven; whatever you loose on earth will be loosed in heaven." (Matthew 16: 18-19).
St. Paul, formerly Saul of Tarsus, was the former persecutor of the early Church. He is mentioned as being present at and approving of the stoning of St. Stephen. On the road to Damascus, to persecute the early Christians there, Saul encountered Jesus who asked "Saul, Saul, why are you persecuting me?" From that moment Saul/Paul became one of the most active missionaries of the new faith undertaking three long journeys through what is modern Turkey and Greece as well as writing thirteen long letters to various communities and individuals of the early Church. These are still read at Mass to the communities that make up the modern Church and make up a sizeable portion of the New Testament.
Both St. Peter and St. Paul would end their days in Rome. St. Peter would be crucified upside-down because, according to tradition, he did not consider himself worthy to die in the same manner as Jesus. St. Paul, because he was a Roman citizen, was beheaded with a sword.
As with all major feasts of the church, this has its own vigil, celebrated the previous evening, with its own set of readings.