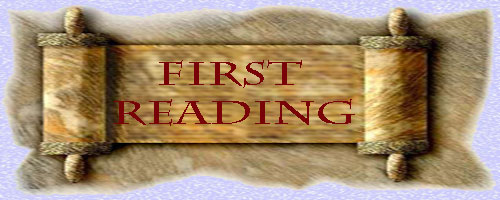 (Leviticus 13: 1-2, 45-46). This describes how lepers were considered ritually unclean and were compelled to live apart from the community.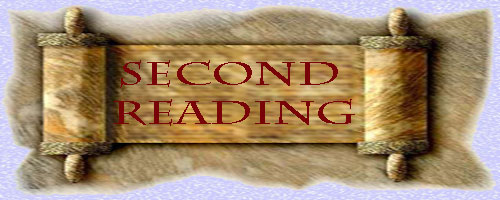 (1 Corinthians 10:31-11: 1). St Paul urges us never to do anything offensive to anyone.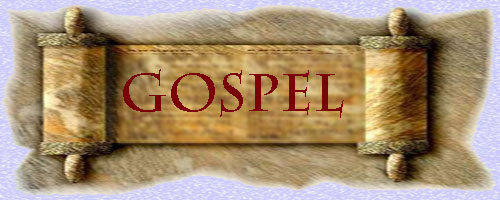 (Mark 1:40-45). This tells how Jesus cured a leper by touching him. Leprosy is a terrible disease, though it is almost unknown in the western world. But it still concerns us for it is a symbol of sin. We are all tainted with the leprosy of sin. Christ wasn't afraid to reach out and touch lepers. He still reaches out to us, to heal in us the wounds of sin. Let us not be afraid to approach him. We need his healing touch. 
God bless you all. Canon John Y Batthula.           


Please pray for the repose of the soul of
David Dee'el
Recently Deceased
David's Funeral Mass will be celebrated at the Church of the Immaculate Conception at 12.00 on Monday, 12th February followed by burial in Bicester Cemetery.
May the angels lead you into paradise; may the martyrs come to welcome you and take you to the holy city, the new and eternal Jerusalem.  Amen.


Please pray for the repose of the soul of
Susan Toogood
Recently Deceased
A Funeral Service for Susan will be celebrated at 12.30 p.m. on  Tuesday, 13th February at Oxford Crematorium.
May the angels lead you into paradise; may the martyrs come to welcome you and take you to the holy city, the new and eternal Jerusalem.  Amen.


Please pray for the repose of the soul of
Maria Madden
Recently Deceased
A Funeral Service for Maria will be celebrated at 10.30 a.m. on Monday, 19th February, followed by burial in Bicester Cemetery
May the angels lead you into paradise; may the martyrs come to welcome you and take you to the holy city, the new and eternal Jerusalem.  Amen.
ALTAR SERVERS MASS AT St CHAD'S CATHEDRAL:
This coming Saturday some of our Altar  Servers will be going to St chad's for their annual Mass . Those of you who have given your names, do try to be on time.
MONTHLY COFFEE MORNING:
Total raised £220.85. Sincere thanks for organisers and supporters. God bless you all. Why don't you come along for the next one. On Friday 9th March from 10.00 am.
SEE CHURCH NOTICE BOARD FOR DETAILS OF THE FOLLOWING:
One of the Syrian families are looking for second hand bicycles.
Church Action on Poverty February 11th . Pray for our Christian Brothers and Sisters especially North Korea.
Justice and Peace Lenten retreat Saturday 17th of February see poster in the porch. Contact Janet Marshall 07434930992.
PIETY SHOP  
Christmas cards, gifts, 2018 diaries, calendars, items from the  Holy Land & more! Diocesan Directories for 2018 £5 now available. A wide selection of CTS books on Saints are available for Confirmation candidates.  Confirmation gifts and cards will be available from mid February. 

CHURCH CLEANING
We have 6 fantastic cleaning teams that clean the church on a rota system throughout the year. We are always on the look out for new volunteers who can join the teams to share the load. If  you can spare a couple of hours every 7 weeks please contact the parish office or, if you happen to know any of the cleaners please speak to them to ask what the job entails. 
WELCOMERS 
More welcomers are needed for all Masses  to warmly welcome parishioners and visitors at the start of Mass and store hymn books and leave the porch tidy after.  Please speak to Sue Wilde for more info, alternatively add your name to the list at the back of church and we will contact you.  If you would like to give it a try without commitment  please indicate this on the sheet.   It's a great way of getting to know your fellow parishioners! More details here.
MONTHLY SCHOOL MASS:
Sunday 4th February, the whole school will join us at 9.00 am Mass. We look forward to welcoming them.
MONTHLY COFFEE MORNINGS 2018:
Monthly Coffee morning's take place on the 2nd Friday of each month from 10.00 am to 11.45 am in St John Paul II Centre, dates for the rest of the year:; 9th March; 13th April; 11th May; 8th June; 13th July; 10th August; 14th September; 12th October; 9th November &14th December.
MONTHLY LUNCHES 2018:
Our monthly Lunches  will be held on every 4th Tuesday of the month. Dates for the rest of the year as follows: 27th February; 27th March; 24th April; 22nd May; 26th June; 24th July; 28th August; 25th September; 23rd October; 27th November.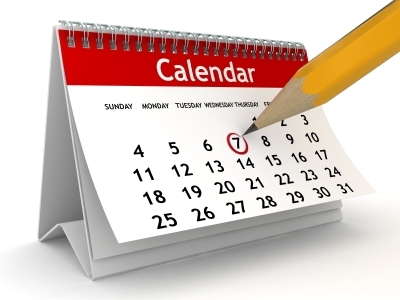 2018 Important Dates
Ash Wednesday  - 14th February
Confirmations - 17th March - Archbishop Longley
Maundy Thursday - 29th March
Good Friday - 30th March
Easter Sunday - 1st April
First Holy Communions: - 13th & 20th May
Corpus Christi - 3rd June  (Eucharistic Procession)
First Confessions (Year 2 ) - Wednesday 20th June
Family Day -1st July
 Volunteers involved in different ministries -  Mass followed by Cheese and Wine Evening -  7th September
MONTHLY FAMILY MASS:
I would like to introduce a new idea where once a month, two families can be involved in welcoming and bringing offerings to the altar, or even involving children reading bidding prayers. Let us try to bring this idea into action from the first Sunday of Lent at 9.00 am Mass. More information to follow, so please keep an eye on the notice board.
NEW EXTRAORDINARY MINISTERS:
Those who have recently attended a course, will be Commissioned as Extraordinary Ministers on Maundy Thursday, 29th March during Mass. Please make sure that you are part of the celebration.  I will be sending out our parish guidelines via email before you are commissioned.
PARISH FINANCE COMMITTEE:
Will meet on Monday, 19th February 2018 at 7.15 pm in St John Paul II Centre.
PARISH PASTORAL COMMITTEE:
Will meet on Tuesday, 13th February at 7.30pm in St John Paul II Centre.
PARISH SOCIAL AND FUNDRAISING COMMITTEE:
Will meet on Tuesday, 27th February at 7.30pm in St. John Paul II Centre.

100 CLUB
Special Christmas £100 prize - No 61  May Bokhari, Monthly Prizes £100 -No 2  Herdman Family, £50 -No 97  Richard Evans, £25 -No 92  Mary Lynch.        
CHURCH REPAIR FUND
I appeal to your generous donations towards the CHURCH REPAIRS. So please give as much as can. Remember, God loves a cheerful giver! Target amount  £ 120,000.00
So far donations/funds raised £25,846.98.   
See what we are trying to raise money for and the progress of the appeal here

ASH WEDNESDAY, 14TH FEBRUARY
MASSES AT 9.30 AM, 12.00 AND 7.30 PM
ST MARY'S CATHOLIC PRIMARY SCHOOL - OFSTED 2017
Read the full report here.
REGULAR FEATURES
MASS ATTENDANCE LAST SUNDAY.
6.00 pm 88
9.00 am 212
1100 am 133
Total 433
SECOND COLLECTIONS
FEBRUARY
10th/11th, 17th/18th: Parish Maintenance 
SACRAMENTAL DATES 2018.
Next year His Grace, Archbishop Longley will be the main celebrant for our Confirmation Mass, which will take place on Saturday, 17th March at 6.00 pm. First Holy Communions will be held on 2 weekends: Sunday 13th & 20th May. I would like to see all families with children who are preparing for their sacraments to attend church regularly as part of their commitment in preparation for the sacraments. Enrolment and session dates are now available at the back of the church and on our website.

Full 2017/2018 programme here.        .
RCIA AND SACRAMENTAL PREPARATION FOR CATHOLIC ADULTS:  
Sessions will commence on Tuesday, 7th November from 8.00 pm to 9.15 pm in St John Paul II Centre.  Please make sure that you attend these sessions without fail. Please pray to the Holy Spirit to guide you. Further information on the RCIA Page.   
SUNDAY COFFEE
Come along for a coffee and meet new and old fellow parishioners after 9.00 am and 11.00 am Masses this weekend and every Sunday in the in the main hall downstairs of The John Paul II Centre. Come along...all welcome!
LEGACIES AND LAST WILL
Have you thought of including the parish in your last will? In the past Parishes were left with legacies. If you would like to leave a legacy to the parish, please contact Fr. John. The large statue of the Immaculate Conception that adorns the front of the church, Bicester's first piece of public Sculpture was paid for by a legacy left to the parish. May the donor rest in peace.
DBS ~ DISCLOSURE AND BARRING SERVICE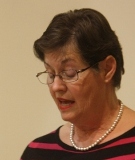 If you are a parishioner who currently comes into contact with children or vulnerable adults as part of your voluntary work in the parish , for example with the youth group, children's liturgy, sacramental programme catechists, baby and toddler group or as an Extraodinary Minister taking Holy Communion to the sick and housebound, etc.,and have not been DBS (CRB) checked, please contact our safeguarding reprasentative, Elizabeth Green, right, as soon as possible. E-mail. safeguarding@immaculate-conception .org.uk
Elizabeth Green
VOTIVE LIGHTS
The votive lights in Our Lady's Chapel are now £1 each. Those in front of the statues of the Sacred Heart and St. Joseph are now 50p.  For health and safety reasons, we request that only those candles provided by the parish are used. Thank you for your co-operation.
BAPTISMAL PREPARATION
Fr. John would like to meet all parents requesting the Sacrament of Baptism for their children. An application form is available for download here or can be collected from the Parish Office. Please e-mail Fr. John or the Parish Office to arrange an appointment.
PREPARATION FOR THE SACRAMENT OF MATRIMONY
If you are planning to get married either within The Parish of the Immaculate Conception or elsewhere, please use the form below to make contact with the Parish Office. Thank you.
Sacrament of Matrimony application form 
BATTHULA CARE TRUST
This is a charity started by Rev. Fr. John Batthula to raise funds to help poor families in India. The funds are used for a wide range of activities such as building homes for a Leper colony, purchasing books and educational equipment for impoverished schools, helping the aged and much more. More on their Website.
PRINTED BULLETIN NOTICES
Please note that the deadline for notices to be included in the weekly bulletin is 3.00 pm of the Thursday of each week.
MISSION BOXES/APF
The Pope's official charity for overseas mission. We share the hope of the Gospel where there is turmoil, poverty and uncertainty in the world, and where the Church is new, young or poor. Missio empowers local people to form and sustain communities of faith and trains future leaders so that the vital work of the Church in the world can take place. Please could all Red Mission Box holders empty and return the contents of their boxes to the parish office/piety shop. Please remember to include your name when deliveing your donation. Empty boxes are available at the back of church, please take one with you!
MASS INTENTIONS
Please use the Mass offering envelopes at the back of the church. These can be posted through the door of the presbytery or given to the welcomers. Please be sure to give plenty of notice if specific dates are required.
PARISH OFFICE
The parish office is located on the first floor of The John Paul II Centre. If the main doors are closed, then please press the buzzer located near the doors and wait for a member of staff to respond. When you exit the building please ensure that the door is fully closed. Office hours are 9.00 am to 3.00 pm, Monday to Friday. The telephone number is 01869 253 277.
WANTED
Do you have any old photographs of parish life, the church (Priory Road or The Causeway), St. Mary's School, etc. that could go into a parish archive? If so, please could you deliver these to the parish office marked with your name. These will be scanned and returned to you. Thank you. A selection of older photographs can be seen here
ROSARY WEBSITE
This website has been set up by a parishioner. Please take a look on therosary3.com which takes you to a quiet place within; away from the noise and din of life, and all its distractions into the presence of God.
CATHOLIC SINGLES 
Is an organisation which helps single adult Catholics of all ages meet, either one to one or through social events. Please tel. 0161 941 3498, visit the web-site
 www.catholicsingles.org.uk
 or email in-fo@catholicsingles.org.uk
FOOD BANK 
Please leave donation in sacristy kitchen. Please, no alcohol or anything containing alcohol, no perishable foodstuffs and nothing past its use by/sell by date. More about the work of the Bicester Food Bank 
here.
GIFT AID ENVELOPES 
Still a few remaining for the next financial year, please collect them as you leave. Anyone wishing to join, please pick up a leaflet and return to the clergy or office.
TRAIDCRAFT
Traidcraft is the UK's leading FairTrade organisation. Established in 1979 their mission is to support people in the developing world to trade their way out of poverty and to bring about trade justice. The parish Traidcraft stall is open after all masses on the third weekend of each month, selling tea, coffee, food items and gifts. Additional items can be ordered directly from Traidcraftshop.co.uk or by placing an order with the stall holder. If you would like more information or could help manage the stall occasionally please contact Ann Poole on 07768241174 annjpoole@yahoo.co.uk.
BUY A BRICK
If you would like to but a brick in remembrance of a loved one, family, friends, as a Christmas gift or for any occasion please complete a form which is available at the back of church and deliver to parish clergy or the office. Bricks cost £250 each. The wall of bricks can be viewed in the John Paul II Centre.
PIETY SHOP OPENING HOURS
Located in the former Lady Chapel this will be open after most weekend Masses. Rosaries, CTS books, sympathy, mass, baptism, holy communion, confirmation cards, other items of piety also on sale..